An Adult and Community Learning hub in the heart of Middlesbrough is supporting some of the most vulnerable people in the local community, including refugees and asylum seekers who have recently moved to the local area.
And Middlesbrough Mayor Andy Preston has praised tutors and staff at Middlesbrough College for their "incredible work", delivering fully funded training programmes and short courses that are designed to get people back into education and work.
The College's ESOL courses (English for Speakers of Other Languages) help refugees and asylum seekers develop fundamental skills in reading, writing, speaking and listening – an invaluable lifeline for those who have had to flee their home countries with limited understanding of the English language.
Among those finding sanctuary and support in the community hub is Serhii Ivaniev. The 40-year-old father of four moved to Middlesbrough with his wife Olga and young children in April as the war in Ukraine became unbearable.
Arriving with very little English, Serhii enrolled on the College's Pre-ESOL course and is now developing essential skills and an understanding of English culture. He studies part time alongside his job at SK Chilled Foods in South Bank and hopes to eventually work as a mechanic, like he did back in his home country.
Middlesbrough Mayor Andy Preston said: "It's heart-warming to visit the College's dedicated learning hub and see first-hand the life-changing work the team are delivering. You feel the warmth in the room.
"There's a real collegiate spirit and sense of teamwork, as people look after each other as they build better lives.
"There's an astonishing spirit of ambition and enterprise in Middlesbrough now and I think that it is driven, at least partially, by new people coming in."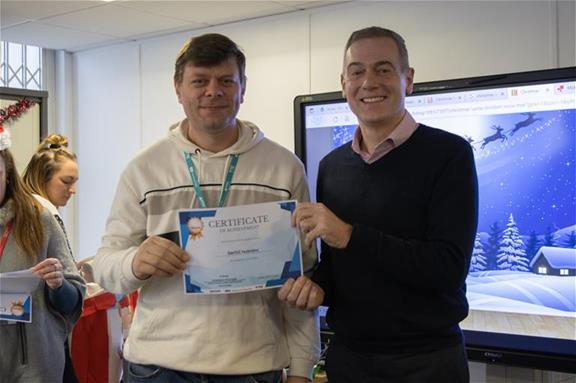 During his visit, the mayor handed out certificates to learners who successfully passed their pre-ESOL courses.
32-year-old Rezgha Amin and 36-year-old Somayeh Hosseini, who both fled the regime in Iran, were among a handful of learners celebrating their successes. They will both continue to study at the College, progressing onto the ESOL course and eventually working their way up to full qualification level courses.
Zoe Lewis, principal and chief executive of Middlesbrough College Group, said: "We're enormously proud of all of our learners and every one of their milestones. Their determination in the face of all they have been through is inspirational and we're proud to be playing a small part in their journey.
"Our dedicated team here are helping learners not only build fundamental skills but are supporting them to overcome barriers to integration in the UK and ultimately build a home away from home.
"They get to know their families and help them find part time work while they essentially start their education journeys from scratch – most of the time starting at primary school level.
"We want people to know our adult and community learning hub is a welcoming and safe environment for all and that our team are on hand to help people take the next step in their career, and towards the life they want to live."
As well as ESOL courses, the College delivers programmes covering everything from Functional Skills in English and maths to Essential Digital Skills. Its Sector Based Work Academies are designed to get people back into work in a specific occupation and include industry recognised qualifications alongside a guaranteed job interview with a local employer upon completion.
Learners also gain vital skills in CV writing, the application process and interview preparation. Click here to find out more about our Adult and Community Learning programmes, or contact the team on 01642 333 378 or email adult&communitylearning@mbro.ac.uk.